Bare Your Fangs!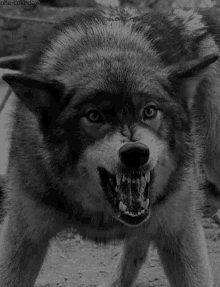 Top posting users this week
Switch Account
Switch user:
---

Fenrir - God:



Name: Fenrir
Age: Immortal
Alignment: Chaotic Evil
Magic: Shadows and Death Magic, Fire Element
Role: Fenrir guards the Souls tree to help keep Morgrim from retrieving Winter Shard. It is not known that Fenrir has a darker purpose-Destruction of the world.
Personality: Fenrirs cruelty may come as outmatched to most if not all. A life to him means nothing. He enjoys a game of wits and the spill of blood. He stands true to his goal of bringing Canin to the ground while posing as an ally to keep the Winter Shard inside the Tree of Souls. Fenrir may choose to ally any pack at any time, but also deceive them just as fast.
History: As the God of Choas and Destruction, Fenrir had come upon Canin after the destruction of a previous world and could help the deep disgust. The land of Canin rot with peace and Fenrir was determined to see it break. He forged a war with Mother Nature which resulted in her escape from him but not without success in the first of many steps to plummet Canin into darkness. Now, Fenrir plays the role of Ally with a cost until the time comes when it is time for more chaos to spread throughout Canin. Still- he might not need to lift a finger himself to do it.
Joro - God:



Name: Joro (Mother Nature)
Age: Immortal
Alignment: Chaotic Good
Magic: Power to grant life to all living creatures, the Four Elements(Earth, Air, Fire, Water)
Role: Fights against her rival, Fenrir in an effort to bring peace to Canin. She gives life as opposed to her dark rival who takes life.
Personality: Kindness and love are some of Joros favorite traits. She gives life, thrives in the good hearts of souls. Joro enjoys songs and praise. She will rarely show herself to a Mortal, but she sends signs that she may yet be near.
History: Joro was born in Shadow Forest before Fenrir taited it with his wraiths, dark spirits from Fenrirs realm of doom as Joro liked to call his home. She was praised by all for her kindness, beauty and variety of talents that brought the lady closer to the whole of Canin. When she learned of Fenrirs sinister plot to destroy the world she loved over jealousy and greed, Mother Nature fought, but suffered a wound that caused the lady to flee and seek refuge while sending her Guardians to do her bidding.

---
Permissions in this forum:
You
cannot
reply to topics in this forum